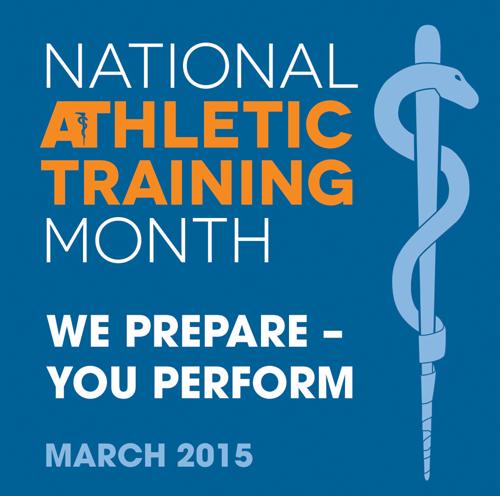 It is that time of the year again to point the spotlight on the countless, often faceless, professionals that do much more that many know in protecting your physically active peers.  This year the message is "We Prepare You Perform" and has many different meanings to many different people.  I want to take this time and space today to tell you what this means to me.
It still happens, I get the occasional "what do you exactly do" comment/question from people.  Certainly most of that comes from those that are not in a sporting type setting, be it at the HS level or connected to professional sports in an interest type of way.  However, it is a great question that I love to answer even though it can get tiresome realizing that our profession is not universally understood.
What "I" do is not that different from what other athletic trainer does.  Bringing it to a more practical analogy, it is not much different that what one does a parent; as I have learned being a father of three.  What we do is make the lives of those in an active lifestyle or profession safer and when warranted BETTER.  The core foundation of this comes from preparation, period.
WE PREPARE.  You imagine it, there is a good chance we have prepared for it in the active arena.  This goes for sports, where the vast majority of athletic trainers are employed, to the industrial setting where the hard-working, blue-collar workers need to be at their best as well.
The easy cop-out would be to say this comes from our education, at least four but increasingly more like six years of study.  Sure that is some of it, but the reality is that no matter what you learn in a classroom setting has little to do with what we do on the "ground" in our profession.  The more complex and reality of the preparation we do comes from experience and adapting.  Constantly thinking of what could happen — and we don't want to happen — and how to react in those situations.  The first time Continue reading →