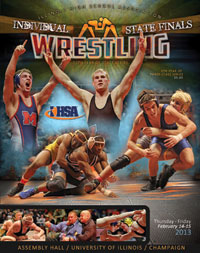 In the Chicago Sun Times, Rick Telander relays a story that is sometimes all to familiar to those that choose to pay attention.  The end result is still the same, gutless and reprehensible behavior by all involved (VIDEO BELOW);
It was the moment wrestler Cody Minnick had trained years for, had sacrificed so much for.

He was in the 2013 Illinois high school state finals in the 106-pound weight class in February, going up against Anthony Luis, a tough nut from Harvard. They had wrestled twice the year before, splitting their matches, but they had not met this season. The shorter, stouter Luis carried a record of 39-6, but Minnick, taller and as lean as a lightweight can be, had progressed and nearly reached the pinnacle. He was 47-0, and he felt this was his big chance, his day for reward.

Then, just 19 seconds into the match, Luis grabbed Minnick and slammed him to the mat. The front of Minnick's head hit first, then Luis' chin hit him from behind.

Minnick signaled to the ref that he was hurt, and he lay motionless for a long time on the mat as trainers and referees circled about him, giving him assistance. He had a cut on the back of his head, but to any close observer, that wasn't the issue. He clearly had been knocked out, however briefly.
This is not a new happening at the Illinois State wrestling meet in Champaign, we have cataloged two previous events prior to the 2013 State Finals;
Here is the video of the most recent case, the one Telander wrote about, courtesy of Sports Legacy Institute:
Which way do you think (post title not giving it away) do you think the Cody Minnick case plays out?  Before we go further, it should be explained that wrestling in Illinois, while being very good, has poor medical coverage.  It has been my experience that the problems faced in football with head coaches wielding too much power is the same or greater in high school wrestling.  This is especially the case when teams travel and being at the state championships is that type of situation.
First of all, if the high school Continue reading →